Eternalize Your Adventures & Thoughts.
Memories is the easiest to use diary app for OS X. Write a journal, include images, videos and sound. Keep your diary at one place and browse through your precious happenings. Rediscover the greatest moments in your life.
Get Memories for $19.99
Style & Format Every Entry.
Your thoughts look great from the beginning. But with just a couple of clicks you can change fonts and text alignment. Use the easily accesible menu or keyboard shortcuts to underline important parts of your life. Color your thoughts to make them stand out. Customize every entry and let your imagination thrive. You can even set your mood.
Add Images, Sound and Videos.
Pictures are worth a thousand words. Movies even more. Add images, sound or videos just by dragging & dropping them on an entry. All common media files are supported and float naturally with your text.
Keep Your Diary Safe.
Your data is the most important thing. Every diary is encrypted by default. You can set a password for even more protection. We use the industry-proven AES-256 encryption standard for the highest security of your personal data.
Your Journal in the Cloud.
Save your journal on all devices. With iCloud you'll have it exactly where you want it. You don't even have to set up anything, because Memories will do it for you. Your entries—with all the latest edits—are stored in the app, so they automatically appear everywhere.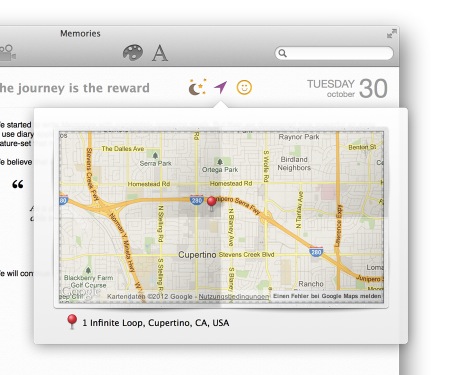 Be Always in the Right Place at the Right Time.
GPS or Wi-Fi will get your current location and you'll always know where you've written your journal. Rediscover long forgotten places you already visited and view them on the beautiful map.
Wonderful Weather. Always on Call.
Every time you create a new entry the current temperature and weather conditions will be fetched and saved automatically for you. Just let the sunshine in your heart.
Record with Your iSight.
Take images or videos with the integrated camera and choose exactly where you want to enhance your entries. Add more than just words into the text flow and stay comfortably inside Memories.
Motivational Reminders.
Choose when and how often you'll get reminders. Write a journal regularly to enhance the quality of your life. Just click on an alert in your Notification Center and start writing a new entry.
Intuitive Interface.
Get started and write your journal immediately in a gorgeous interface. Be flexible and change the date for every entry to your liking. Keep an overview of your mood with colors in the sidebar.
Smart Search.
Did you forget when something happened? No problem. It's our job to find past thoughts. Search for everything in the most easiest and fastest way possible and rediscover your memories.
Easy Printing.
Print your memories and take all of your customizations like styles and colors to paper. With just a few clicks, you can go from viewing something on the screen to holding a printed copy in your hands.
Full-Screen.
With one click all clutter disappears and you can write your journal without distractions. The gorgeous full-screen view uses every inch of your display and makes it easy to go back.
Auto-Save.
Your diary gets saved every two minutes, so you don't have to think about it. Just focus on your writing. Forget to press Command-S after every change. You'll never lose hours of your time again.
Fast Export.
We don't like if you feel locked in. That's the reason why we preserve your memories in a standard-based SQLite format and let you export all of your entries in the most compatible RTFD or PDF formats.
Good Citizen.
Memories integrates perfectly into OS X. Check your spelling and grammar while you type. Substitutions make your links, quotes and dashes beautiful. The built-in speech feature even reads your thoughts.